Homophobia is a global problem, a problem in the Americas, a problem in your state, and it is a problem within all racial demographics. Yes, yours, too.
But let's bring this closer to home. Homophobia is a problem within the Black community.
Now, let's go a step further and drill down one more level: Far too many Black men – who say they are "straight" – are homophobic, and they are loud and often nasty with their homophobia.
But we know that because homophobia isn't new, and the insults, "jokes" and slurs aren't new or original either, they persist all throughout our community.
We are witnessing a young, dynamic, and unapologetically gay young man turn the rap and pop cultures into his personal playground of success: Lil Nas X.
Lil Nas X, the 22-year-old singer, rapper, multimedia futurist and innovator is lighting up the digital and musical worlds with hit songs, groundbreaking visuals, unlikely collaborations, and an online clapback game that is gold-medal worthy.
And because of his success and how unbothered he is about being who he is, his online presence is constantly under attack by homophobic bigots who hit every demographic but lean heavily Black male.
Instead of celebrating his talent and success, far too many cis Black men take the time to hurl nonstop insults at him as if their opinion matters to Lil Nas X's success, sales, future, or happiness.
What is terrible, though, is that the homophobia Lil Nas X effortlessly filters out of his life, lands in the ears and in the hearts of other young and old Black men and boys who may not have the confidence, support, or self-awareness to filter out the hatred they hear and read as well as he does.
And that is, to this writer, where cis Black men need to step up and speak out.
How can we expect everyone to accept and understand the historical call to recognize that Black Lives Matter when far too many of us cis Black men ignore the lives of our brothers and sisters who identify as gay, trans, non-binary, or elsewhere on the gender spectrum?
Who can our LGBTQI youth go to for an listening ear, an open heart, a warm hug, and sound advice, if they cannot go to the older Black men and women in the home, community, church, or school?
Unfortunately, right now, they cannot go to many cis Black men. Why would they want to when far too many of us are bigots who spew hate at every opportunity?
Cis Black men make too many jokes, laugh too loudly, and use well-worn bullying tactics to attack our own brothers, cousins, friends, uncles, and fathers all because of who they love and who they are.
And ahistorical cis Black men blame American society and Eurocentric society for "turning" Black men gay. These same ahistorical conspiracy clowns believe there is some type of coordinated effort to emasculate and feminize Black men… and decrease our population by "forcing" gayness on young Black children.
It makes about as much sense as believing every gay Black man is trying to convert some cis Black men.. as if the ashy legs, crusty feet, dirty fingernails and unwashed sheets are appealing to literally anyone.
I've got news for you, fam: They're just not that into you.
If anything, there is an almost coordinated effort by cis Black homophobic men and cis Black self-appointed allies to continually attack Black gay boys and men with their cheap and vile words and violence.
The loud and ugly homophobic Black men – for example, clownish rapper Da Baby, who went on an extended homophobic rant earlier this week during one of his (superpreader) concerts, said "Everyone with HIV/AIDS will die in three days," and "Men performing oral sex," in parks and other f-word based comments about what gay people deserve. He went on about oral sex and Lil Nas X as if he had something, uh, that he wanted to confess.
His ham-handed apology means nothing. He has done it before and will do it again because there's no cancel culture for rappers who are violently homophobic.
What was as bad was that the audience laughed and, afterwards, very few of Da Baby's peers have called him out. In fact, there are not that many peers who regularly stand up and stand by Lil Nas X.
We are impressed with Lil Nas X ability to clapback and hold his own, but we should be equally upset that he is put in a position to have to do that. He is twenty-two years old. The hatred thrown at him can be debilitating and harmful. We know this because Black gay men are at higher risk for suicide, depression, and overall mental health struggles: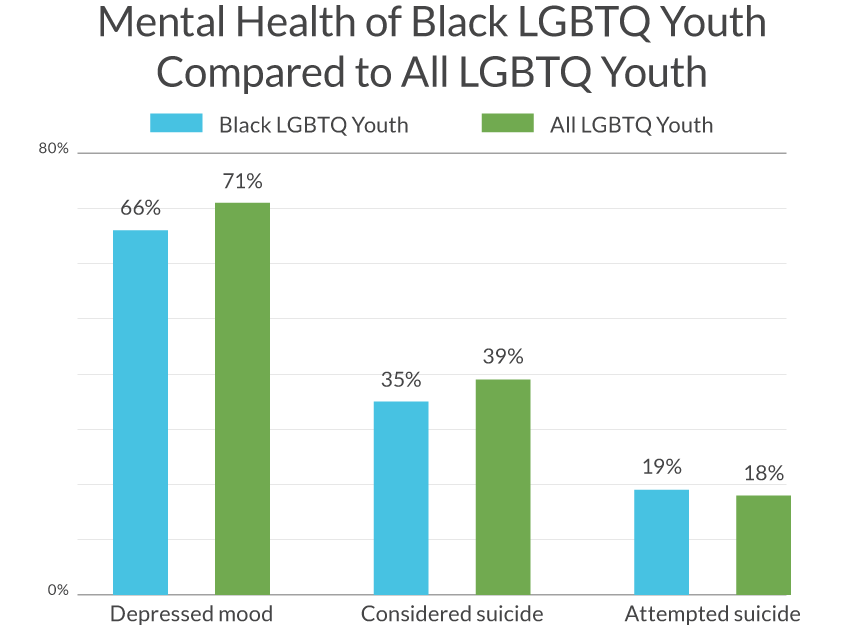 The numbers should concern us because these are our kids and we know the struggles they will encounter in American schools, churches, homes, jobs, and in society because they are Black. 
We cannot be okay, as cis Black men, with allowing our future to be the object of bigotry, scorn, alienation, and hatred from our own.
As a group, we are not speaking up enough, donating enough, supporting enough, and we are not loving our LGBTQI families of our own enough.
We have to be as loud in celebrating and backing Black LGBTI youth as we are in celebrating all our youth. There's no one else that will do it if we do not.
Because whether we know or accept it or not, we already celebrate Black gay celebrities and athletes, preachers and choir singers, teachers, lawyers, doctors, customer service agents, chefs, cooks, drivers, electricians, and politicians. Just because a person hasn't announced their sexuality spectrum to the world, that doesn't mean they don't exist.
They do.
But existing isn't a goal. Living a fully actualized life is the goal, and that can only be done when internal and external work in harmony for the betterment of the individual. And far too often we cis Black men are content and even push the partial-living narrative to our Black gay community: Stay quiet, stay in the back, stay inside yourself, and don't share yourself.
It is a message rooted in erasure and fueled by ignorance and hatred.
And I don't know about you, but our community already has too much ignorance and hatred forced upon us by a society that also wants us to stay quiet, stay in the back, and keep our blackness in check and out of public spaces.
Black LGTBI people deserve more than mere "acceptance," though that is a starting point that far too many cis Black men won't even attempt.
The harm we are doing to Black gay boys, girls, women, and men cannot be measured or quantified but it can be understood.
We know that seventeen percent of Black Americans identify gay, lesbian, bisexual or other and those numbers represent… millions of our family, our community, our future.
We cannot afford to alien-hate our own community by the millions. There is too much at stake for them, our communities, and the country. And the sooner we can accept the fullness of our loved ones – really accept them – the sooner we can, as a people, really and truly look ahead to our better futures.
Because our future isn't isolated and it isn't a fairy-tale land reserved exclusively for cis Black men. In fact, that fake place has never existed, no matter what strange internet stories there are about there never being gay people in ancient Africa.
Tip: That's a lie. Research it for yourself.
It is far past time that cis Black men become what Black LGBTQI need: friendship, safe haven, support, help, and all the love we can muster.
As Stevie Wonder wrote:
"Love is in need of love today. Send your love in right away."
Cis Black men need to turn off the hatred and homophobia and replace it with love.
It is the only way forward and it is what our community – all of our community – is in need of.
© 2021 by Myron J. Clifton. All Rights Reserved.
Myron J. Clifton is slightly older than fifty, lives in Sacramento, California, and is an avid Bay Area sports fan. He likes comic books, telling stories about his late mom to his beloved daughter Leah, and talking to his friends.
Black women are spreading joy in 2023. The tumultuous time we live in isn't a match for the unique talents and joy of Black women who are shining, showing out, and delivering joy in music, television, movies, poetry, and the office of the vice president. As we enter into summer, we celebrate and honor the…
The latest mass shooting in Allen, Tx., by Mexican-American — a citizen for anyone hoping to blame immigrants — Mauricio Garcia, 33 years old. Mauricio was kicked out of the military after a few months once they figured out he had serious mental issues. But never fear, because in Texas anyone can purchase any number…
Christians are working overtime to turn America into a christo-ethnic state that prioritizes white nationalism, fascism, anti-Blackness, anti-Latino, Anti-abortion, Anti-immigrant, Anti-democracy, Anti-LGBTQI+, Anti-Books, Anti-public schools, Anti-police accountability, Anti-international allies, Anti-healthcare, Anti-vaccination, Anti-debt relief, Anti-environment, Anti-worker's rights, Anti-freedom of the press, Anti-voting rights, and….. You get the point, I think. Some Christians will reflexively respond with:…